May 3rd, 2010
I don't know about you, but I'm really not keen on using acid to etch beads to take off the shine, so I decided to investigate tumbling glass beads instead.  The finish produced by tumbling is slightly different from etching and very pleasing at the same time. This only works with regular, smooth shaped beads, i.e. rounds, otherwise you can end up with gaps in the effect where the tumbling stones can't reach into small dimples.  Unless, of course, this is the finish you want!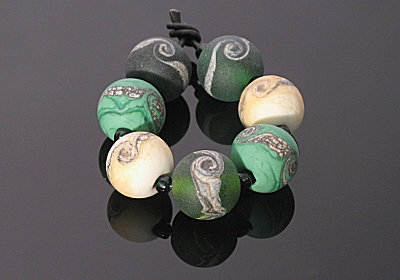 When I was a kid, I used to collect glass from the beach that had been polished by the sea and sand, as I loved the way it looked and felt.  The colours were always muted and seemed to be either pale green or clear – not the coloured glass you get nowadays in bottles, but pleasing nonetheless.  So imagine this look for any transparent bead and that's what you'll get.  The opaque glass also has a nice finish and seems to keep it's depth of colour.  Anyhow, here's how I did it.
I collected a couple of handfuls of roundish gravel from my garden path – about 2-4cm in size. I then stone tumbled them using the directions for my stone tumbler to get them reasonably smooth (80, 220 and finally 400 grade carbide grit) over a period of 2 weeks (check your tumblers manual in-case it recommends a different programme).  This took any sharp edges or lumps from the stones and prepared them ready for polishing beads.  I also had 5 small pieces of glass that I'd collected from the beach, so I thought I'd add this as well – not sure why, but seemed like a good idea at the time.
I placed my glass beads that I wanted to tumble into the container and filled it 3/4 full with the polished stones and added one tablespoon of Cerium Oxide polish – again, refer to your tumbler's instructions in-case they vary.  I topped it up with water so it just covered the stones and beads, sealed the container and set it away tumbling.  I found that 2 hours tumbling gave a nice, regular finish.
Once I removed the beads (I found it easier to empty the whole container into another one without the water, to find smaller beads) I gave them a thorough wash and Voila!  Lovely beachy beads.
I hope you find this helpful!